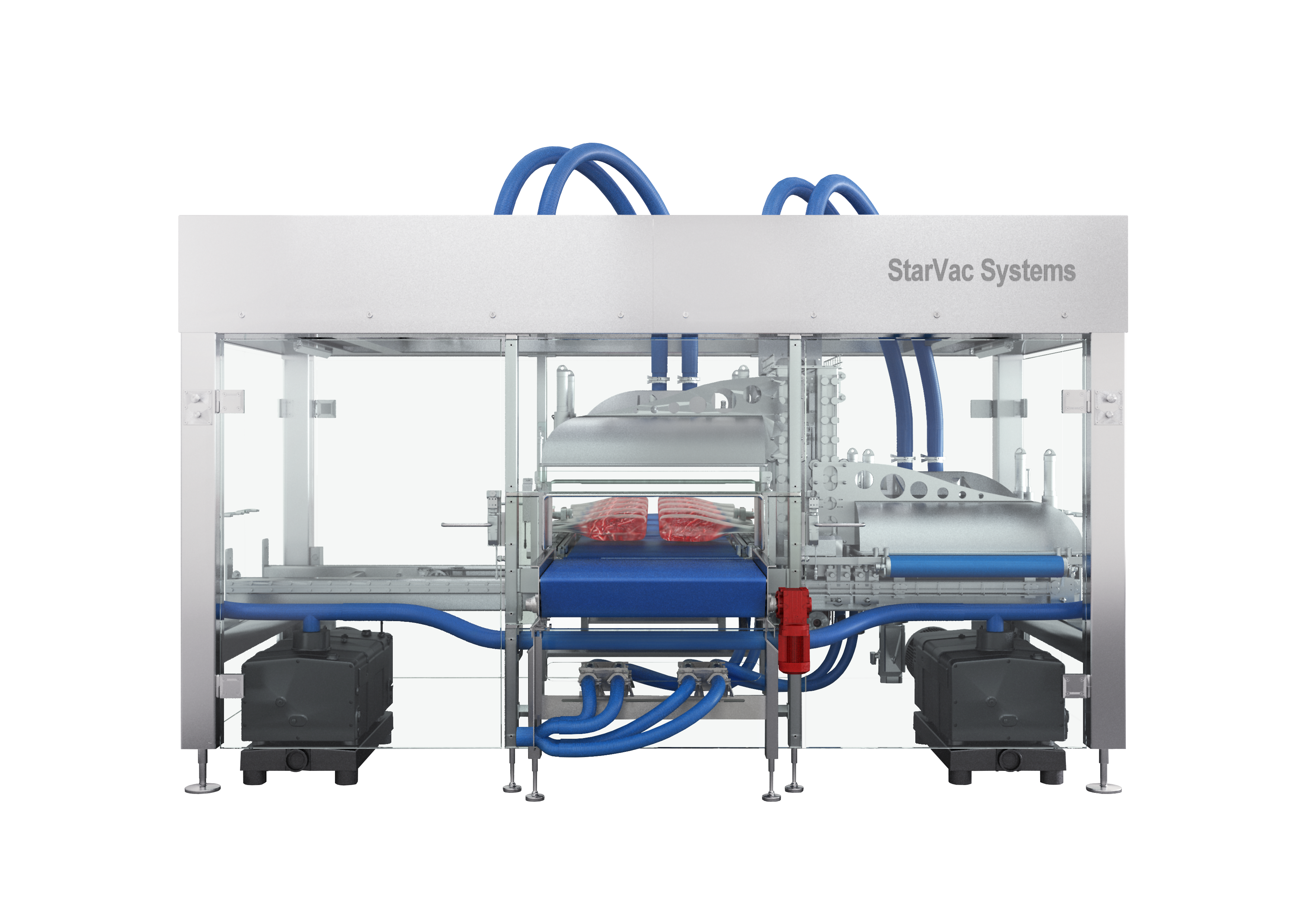 STARVAC JUPITER 445
The Jupiter 445 is StarVac's flagship fully automatic vacuum packing machine designed for peak volume industrial-scale packaging of fresh meat and cheese.
The Jupiter 445 is designed for high efficiency processing and is the perfect solution for expanding your production capacity, increasing productivity or replacing old, outdated costly packaging equipment.
The Jupiter offers minimal maintenance and service requirements, particularly when compared with rotary systems. Our CALLISTO™ Performance and Maintenance System allows customers to analyse the performance of the machine and enables operators to proactively manage upcoming service requirements.
In combination with our shrink tunnels, driers and our new automated loading systems, the Jupiter 445 represents the perfect "Heart" of your automated packaging lines in confined production spaces.
The StarVac Jupiter vacuum chamber system represents the latest technology in vacuum packaging equipment. State-of-the-art design and components deliver many advantages including a high throughput, small footprint, reduced energy consumption, low maintenance requirements and environmentally friendly operation.
With an industry-leading capacity of up to 40 packs per minute and large vacuum chambers, the Jupiter is ideal for high throughput beef and lamb boning rooms and bulk cheese packaging. Particularly where floor space is tight!
Product Video jupiter 445
| Specification | |
| --- | --- |
| Packaging Speed | Up to 40 packs per minute |
| Max product size | Up to 800 L x 500 W x 230 H |
| 4 Seal Bars | 4 x 1150mm Bi-operational and adjustable temperature |
| Energy Efficiency | 38.4kW for Vacuum System - that's up to 47% less power than comparable systems! |
| Compressed Air | 25 l/min - that's up to 97% less than comparable systems! |
| Specification | |
| --- | --- |
| Small Footprint | 11.2m2 - that's up to 57% smaller than comparable systems! |
| Vacuum System | 2 x Busch NX 650 dry running screw vacuum pumps plus 2 x Busch WP 1250 booster pumps |
| Construction | All stainless steel hygienic design |
| Machine Footprint | 2m x 4m |
| Country of Manufacture | Germany |
Contact us for your vacuum packaging needs